ASPECHOME
Innovative and patented energy smart home system
---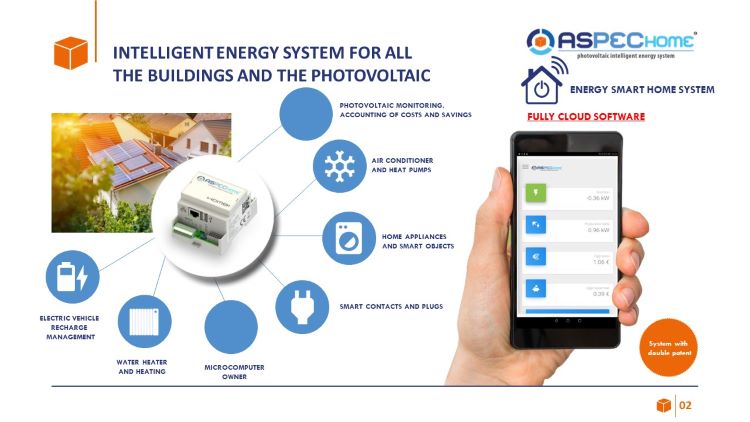 Aspechome is the innovative ENERGY SMART HOME system for the home with photovoltaics: an all in one intelligent energy management and saving system, able to exploit all the energy produced by the system by managing and controlling all the utilities connected to it.
It is simultaneously intelligent management of energy and loads, economic monitoring, wi-fi home automation, building automation and remote assistance.
It allows you to instantly check and verify production, self-consumption and daily, monthly and annual costs; guarantees efficient use of energy by managing from air conditioners to heat pumps, from home appliances and smart and non-smart devices, from wall boxes and other electrical utilities.
Aspechome can be applied to single-phase and three-phase systems, is compatible with all brand and multifunctional and the logics are covered by two EU and USA patents.
It is a system created for the residential sector, but it also can be applied in the commercial and tertiary sector.
A constantly evolving product: an automatic and constant update over time through is web app, which will also allow effective online remote assistance .
The result is to have savings, comfort, ease of use and complete management of your home at the same time, transforming it into a real ENERGY SMART HOME.
DOWNLOAD OUR BROCHURE