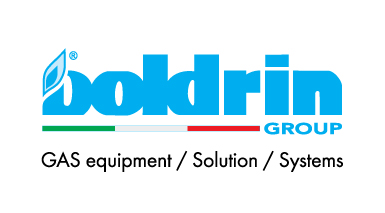 boldrin
technology
gas
safesystem
gasindustry
gasmixing
gasequipment
gassolution
system
solutions
components
tag
cam
NGRTech
Alberto Boldrin
GAS equipment/Solution/Systems
---

Boldrin Group is made up of the companies:
BOLDRIN - Technology for gas

TAG - Systems and components for the gas industry.

CAM - Components for the gas mixing industry

NRG Tech - Safety systems

BOLDRIN - Technology for gas
Boldrin is the historic company founded by Emanuele Boldrin in 1959, which has been operating in the gas sector in Italy and worldwide for almost 60 years. It is the point of reference for professionals in the sector for its extensive know-how and expertise of its technicians.
Boldrin offers products related to the world of gas such as pressure regulators and reducers, stabilizers, filters, gas and biogas meters, biogas equipment, solenoid valves, gas leak detectors, pressure switches and Atex equipment for construction sites.
This is not all. Boldrin has also a wide range of accessories by Akuatek for the world of water and by Climaline for air conditioning.
Boldrin distributes also Rochester®, Rego® and Honeywell® quality products.
Link: view BOLDRINI site

TAG - Systems and components for the gas industry.
TAG is an ISO9001 certified company founded in 1999. It designs and manufactures large-scale industrial systems for gas regulation, measurement, control and safety.
Specifically, it designs, manufactures, tests and carries out the first ignition of natural gas, LPG, propane air, ammonia and cryogenic gas plants. Among their products are first reduction systems, final reduction units, burner gas ramps, filtration systems, LPG storage, propane air mixing and automotive plants, LPG and ammonia vaporizers and PED filters for fuel gases.
TAG is also the exclusive distributor in Italy of Rego® ECCI and Rochester products, worldwide renowned companies which mean quality.
Link: view TAG site

CAM - Components for the gas mixing industry
CAM was established in 1955 and since 2017 is part of the Boldrin Group. It is worldwide renowned for its technology and know-how in the production of components for the gas mixing industry.
CAM takes care of the design, production and installation of mixing plants, also of very large ones. Among its customers are the largest industries in the sector, both Italian and international.
Link: view CAM site

NRG Tech - Safety systems
NRG Tech was founded in 2012 and is the company within the Boldrin Group that combines electronics with the world of gas and anti-seismic devices.
With years of experience in the field NRG Tech develops and produces innovative products for the detection of gas leaks and seismic movements for safety both at home and in the industry, such as sensors and detectors.
The offer of this company goes beyond mere products with real-time remote monitoring of structural and seismic movements and gas leaks, as well as training, technical assistance and constant product updates to meet the latest law requirements.
The division dedicated to seismic detection products is marked SEMIC DEVICE. Find out more about our brand.
Link: view NGR site